Australian manufacturer and safety experts Cirlock have been using lean manufacturing processes for a number of years to improve their output, Erik Larsen, founder and owner says "its helped us to achieve great things at Cirlock, we waste next to nothing and our team have a streamlined process that gets the product out faster and cheaper than ever before."
There are a number of principles in Lean Manufacturing to take into consideration; we practice a number at Cirlock, but we have developed a new product based on one of our favourites.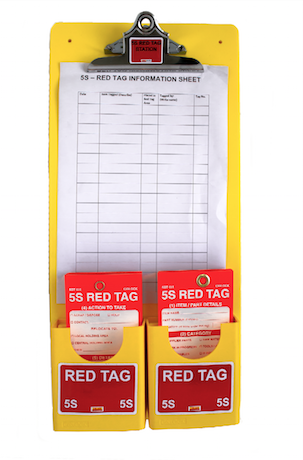 The 5S's principle:
Sort – sort out all the things you do, then assess if you actually need to do them, Red Tag and deal with the ones you don't need to do and permanently remove them from the process. This will save you TIME
Set in Order – Set up your work area so it is tidy and easy to work in.
Standardise – Set up simple, best practice processes that your team can attain and keep them the same consistently.
Shine – make sure your area is tidy throughout the actual task, and keep it that way
Sustain – maintain your new systems and level of tidiness in the workplace.
The 5S system originated in Japan, and the 5 S's are Sort, Set in order, Shine, Standardise and Sustain.
Our 5S station comes complete with a clipboard for you to attach a checklist to (to ensure that the work area has been tidied frequently), 2 tag holders and 25 tags to start you off de-cluttering your work area. We also have a smaller version available which simply holds more Red Tags.
Its simple to be organised, and there are a number of systems and principles you can teach your team to ensure that your workplace is systemized and organised and that you are using the most streamlined processes for the job in hand. For more information on our 5S Station go to http://www.cirlock.com.au/products-and-shopping/safety-tags-and-tag-holders
We saw an opportunity that would help a variety of industries to employ the 5S principle into their workplace, and so we developed an uncomplicated system that allows users to identify and check that the 5S principles are being used.