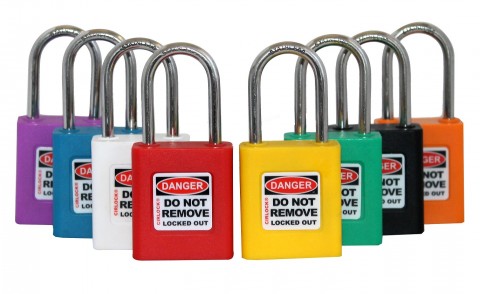 Features: Specially made for lockouts where a shorter shackle is required
Benefits: Plastic and stainless steel
The shorter shackle is here!
The SLP-438 Series of Safety Lockout Padlocks from Cirlock are made from a nylon plastic housing with solid brass keying mechanism and stainless steel shackle. The shackle is 5 mm diameter and 38 mm long. Whilst the Australian standard size in lockout padlocks is a 50mm shackle, we were often getting requests from customers for locks with a shorter shackle. We are pleased to now be able to supply these to our customers, with the shorter 38mm shackle locks now available to accompany our popular range of 50mm locks.
The locks are available in five different colours, and can be keyed different, keyed alike and/or master keyed. The Cirlock unique 6 pin cylinder also ensures a very large number of combinations. Danger Do Not Remove and 'belongs to' labels are standard on locks, and/or they can be supplied with Out of Service, company logo, personal names or photo ID or other, as required.
All Cirlock padlocks, including SLP-438 series, are exclusively made for Cirlock, Australia's original lockout manufacturer. Available through local electrical and other wholesalers.
Cirlock PO Box 39, Buderim Qld 4556
Ph 07 5445 2910 E: sales@cirlock.com.au